Electronic Fuel Delivery System (EFDS) powered by Empress 2.4 GHz Active RFID
Energy efficiency has become a critical issue nowadays in meeting the world's surging energy demand. Accurate real-time fuel consumption and operation time data for efficiency analysis and improvement is essential to achieve better energy efficiency. We need to find ways to use fuel wisely. Our Electronic Fuel Delivery System (EFDS), combining functionalities of machine management and fuel meter recording, helps automate the whole fuel injection process and records all useful data accurately and timely. It is the best tool to help us use fuel efficiently and wisely.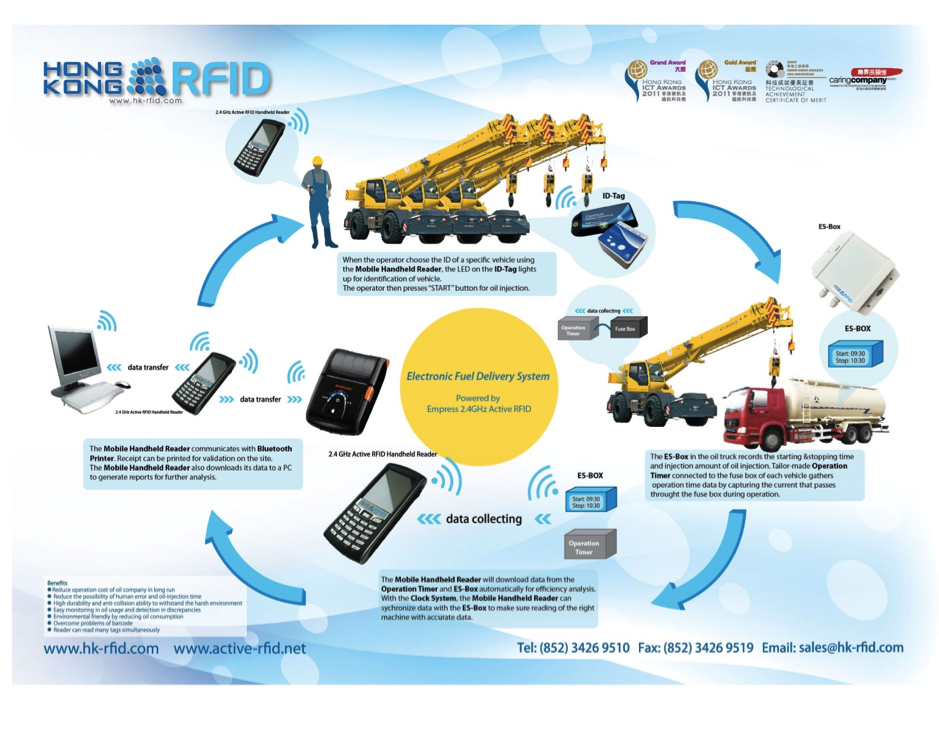 Components & Operation of EFDS
Step 1: An ID Tag (transponder) is installed on each machine to identify and give each of them a unique ID.
Step 2: The wireless Operation Timer (data logger) installed in each machine's fuse box records the operation time automatically.
Step 3: The flow meter on oil trucks are connected to an ES-Box, which records the amount of fuel refilled.
Step 4: Data from both ID Tag and Operation Timer is consolidated and shown on a Mobile Handheld Reader and printed out immediately.
Step 5: Consumption and efficiency report can be generated based on data obtained.

Unique Functionalities and Benefits
• Easy vehicle identification
• Improved efficiency under a wholly automated system
• Accurate measurement of fuel consumption and operation time data
• Reliable efficiency report for analysis
• Environmentally friendly & sustainable

EFDS integrates advanced active RFID technology and customized hardware design to enhance operation efficiency of the fuel injection process. It serves as an effective tool for fuel efficiency management, planning and improvement. Errors with recording data during the fuel refilling process could be prevented with the automated system. The implementation of EFDS thus helps to enhance both efficiency and effectiveness of fuel usage to reduce operating costs substantially.
Download
Case Study: 2.4GHz Active RFID Solution for an Oil Company